Nie jadał mięsa, twierdząc, że nie włoży do ust niczego, co miało matkę. Tęsknił za … przyszłością. Urodzony w 1930 roku, uważał się za człowieka z XXI wieku, który zupełnie przez przypadek znalazł się w dwudziestym stuleciu. Był niezwykłą osobowością i, choć wiele jego teorii można by traktować z przymrużeniem oka, to właśnie Fereidoun M.Esfandiary, jako jeden z pierwszych, przewidział m.in. zapłodnienie in vitro czy zakupy za pośrednictwem telewizji.
Zanim zmienił nazwisko na FM-2030 i całkowicie poświęcił się promowaniu idei transhumanizmu, miał także, można by rzec, przyziemne zainteresowania. Lubił sport, a w wieku zaledwie 18 lat reprezentował rodzimy Iran (wówczas Persję) w koszykówce na Letnich Igrzyskach Olimpijskich w Londynie w 1948 roku. Perska reprezentacja wypadła słabo, jednak sam Esfandiary miło wspominał tamto wydarzenie. Gdy natomiast zakończyła się jego krótka przygoda ze sportem, wyjechał do USA, by studiować na Uniwersytecie Kalifornijskim. Tam za namową ojca (dyplomaty stacjonującego w Brukseli) dołączył do Specjalnej Komisji Narodów Zjednoczonych ds. Palestyny. Służył w niej w latach 1952 – 1954, zajmując się analizą konfliktu żydowsko-arabskiego w Brytyjskim Mandacie Palestyny i znalezieniem sposobu jego rozwiązania.
Swoją przyszłość widział jednak nie na politycznych salonach, lecz w małym gabinecie, w którym ciszę przerywałby jedynie stukot maszyny do pisania. Esfandiary pragnął bowiem zostać pisarzem – i dopiął swego. Jego pierwsza powieść "The Day of Sacrifice" (Dzień poświęcenia), będąca szpiegowskim thrillerem, ukazała się w 1959 roku. W przeciwieństwie do niezbyt udanych występów w koszykarskiej reprezentacji, powieściowy debiut Fereidouna okazał się sporym sukcesem. Magazyn "The New York Herald" umieścił "Dzień poświęcenia" na liście najlepszych książek roku, a powieść została następnie przetłumaczona na jedenaście języków. Sporym wyróżnieniem dla 29-letniego pisarza był także fakt, że tom ten znalazł się na liście obowiązujących lektur pracowników… amerykańskiego Departamentu Stanu.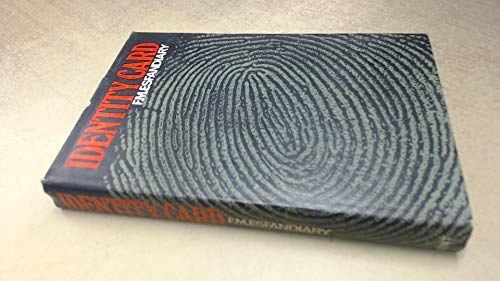 Zmotywowany tym sukcesem Esfandiary w 1965 roku wydał kolejną powieść "Żebrak" (The Beggar), a rok później "Indetify Card" (Dowód osobisty). Wszystkie trzy wymienione książki posiadają kilka wspólnych cech: akcję osadzoną w Iranie, wplecione w fabułę wątki autobiograficzne oraz próbę znalezienia wspólnego mianownika dla postępowości i tradycjonalizmu. Tym ostatnim problemem Esfandiary zajmował się do końca swoich dni.
Przygodę z beletrystyką zakończył nieoczekiwanie właśnie na "Dowodzie osobistym" – komedii opowiadającej o realiach życia w Iranie. Autor znów został doceniony przez krytyków, którzy uznali "Identify Card" za najambitniejszą książkę pisarza. Nic więc dziwnego, że dotychczasowi miłośnicy jego twórczości przeżyli niemały szok, kiedy dowiedzieli się o planach Esfandiary'ego na przyszłość.
Rychło porzucił on bowiem karierę pisarską na rzecz publicznych debat intelektualnych. Przestał określać samego siebie dotychczasowym mianem "Irańczyka w Ameryce", a zapowiedzią radykalnych zmian w jego życiu była wydana w 1970 roku kolejna książka (ale już nie powieść) "Optimism one: The Emerging Radicalism", w której napisał, że "Nigdy w przeszłości świat nie był lepszy, niż jest dziś". Decydując się na zakończenie kariery, Fereidoun dodał, że nie ma zamiaru marnować swojego czasu na wymyślanie kolejnych historii, odtąd ma zamiar zmienić wszystko. Krótko potem kazał nazywać się FM-2030, argumentując zmianę tym, że "imiona i nazwiska określają przeszłość osoby: przodków, pochodzenie etniczne oraz narodowość i religię. Natomiast imię 2030 wyraża moje przekonanie, że około tego roku 2030 nastanie magiczny czas. W 2030 przestaniemy się starzec i każdy będzie miał wspaniałą szansę życia wiecznego. 2030 to marzenie i cel" – powiedział w 1977 roku w audycji wyemitowanej przez amerykańską stację radiową NPR.
Esfandiary uważał, że nowoczesna technologia pozwoli człowiekowi żyć w nowych, lepszych warunkach. XXI wiek ogłosił "Wiekiem Optymizmu". Twierdził, że narody oraz tożsamość kulturowa znikną i wkrótce nikt nie będzie mówił np. , że jest Amerykaninem czy Egipcjaninem, ponieważ wszyscy będą globalni. Przez wielu określany był mianem proroka i zarazem showmana. Nie ulega natomiast wątpliwości, że z wielką przenikliwością dostrzegł i docenił rosnącą w społeczeństwie świadomość na temat technologii. Pisał więc eseje i książki, często występował w telewizji, a nawet z wykładami na uniwersytetach. Wszędzie, gdzie się pojawiał, swoimi kontrowersyjnymi wypowiedziami wzbudzał wiele emocji.
Choć jak dotąd nie wszystkie jego teorie sprawdziły się (np. to, że już wkrótce ludzie skolonizują Marsa i Księżyc), sporo z nich zdążyło się już zmaterializować. Kiedy czterdzieści lat temu FM-2030 rozprawiał o inżynierii genetycznej, mikrokomputerach czy robotach, które ułatwią człowiekowi życie, wielu patrzyło nań z niedowierzaniem lub pukało się w czoło. Niezrażony tymi reakcjami futurysta pisał kolejne książki i chętnie udzielał wywiadów.
Jednak głównym tematem, którym FM-2030 się zajmował, było życie wieczne. Twierdził, że z biegiem czasu ludzie zaczną żyć coraz dłużej, aż w końcu nikt nie będzie umierał. Ma się to stać około 2030 roku. "Lekarze będą przeszczepiać sztuczne narządy (…), modyfikować nasze ciało, transplantować ludzki mózg do nowego ciała, ciała robota" – pisał. Według niego tak właśnie ma wyglądać nieśmiertelność.
W pewnym sensie FM-2030 spopularyzował w świadomości społecznej kriogenikę. Uważał także, że jeśli ludzie chcą żyć wiecznie, powinni stosować odpowiednią dietę, ćwiczyć i unikać stresu.
Znalazł grupę wielbicieli, którzy tak jak on, chcieli "ożywić geniusz ludzkości i pokonać największą tragedię, jaką są starzenie się oraz śmierć". On sam zaczął pracować jako wykładowca nowojorskiego New School for Social Research, UNCLA oraz Florida International University. Później był doradcą w korporacjach Lockheed (amerykańska wytwórnia zbrojeniowa specjalizująca się w produkcji statków powietrznych) oraz J.C. Penney (sieć domów towarowych).
FM-2030 miał nadzieję dożyć 2030 roku, w którym skończyłby 100 lat. Niestety, nie pozwolił mu na to rak trzustki. Futurysta, filozof, pisarz i naukowiec w jednej osobie, zmarł 8 lipca 2000 roku, po czym błyskawicznie został poddany krioprezerwacji w Alcor Life Extension Foundation w Arizonie, gdzie jego ciało pozostaje do dziś.
Czy rzeczywiście kwestią czasu jest wynalezienie sposobu na nieśmiertelność? FM-2030 wierzył, że tak…
Źródło: Nieznany świat, Paweł Wiliński, Źródła zdjęć: [1] [2] [3] [4] [5] [6] [7]